Ecommerce email marketing is different from email marketing implemented by lifestyle bloggers, non-governmental organizations, political parties, etc. The main idea of commercial emails is to sell, and do it right away.
It is not only promotional newsletters that we all know. Ecommerce email marketing also contains automated email workflows that use basic business data and send highly relevant emails to customers according to their behavior. These emails can allow your email marketing to grow by 30% and become a stable, as well as profitable, sales channel.
How Do Automated Emails Work?
Your ESP (email service provider) sends an email to your customer automatically when he/she activates its trigger. For example, the submission of an email address to a signup form triggers a welcome email. This means that your ESP gets an alert about a new subscriber that has to receive a welcome email and sends it immediately. In this way, your customers individually receive emails from you that are relevant to them at that particular moment.
Why Are They Successful?
So, why are they successful, you may ask. There are several reasons:
You do not need any additional information about your customers to start sending them. Your basic business data is enough for these workflows to go live.
With little or no knowledge about automation, you can achieve great results. Advanced automated workflows bring stunning results, but they require a deep understanding of the different scenarios of customer behavior. These workflows can be launched in 1 minute without any additional information and perform very well.
Particular automated workflows can be provided by well-known email service providers, like, Omnisend or Mailchimp, so it will not cost you a lot of time and money migrating elsewhere. Read this article for the best Mailchimp alternatives. Alternatively, you could just outsource your ecommerce marketing.
To start automating your email marketing, all you need is the awareness to know that you can do it easily.
4 Recommended Email Marketing Automation Workflows
1. Welcome Emails
This workflow has a very clear trigger – the email is sent when a new subscriber signs up. It works as a confirmation of their submission. Moreover, your fast feedback improves online store credibility as well as suggests that they make a first purchase. 74.4% of your customers expect to receive a welcome email. Don't let them down.
In addition, welcome emails perform, on average, six times better than a promotional newsletter. The infographic below compares automated email performance to promotional newsletter performance.

Check out more interesting data about ecommerce email performance.
(Note: Do you know OptiMonk? It provides powerful onsite retargeting solution that help you convert up to 15% of abandoning visitors to subscribers and customers. Let's give it a try. Click here and create a free account now.)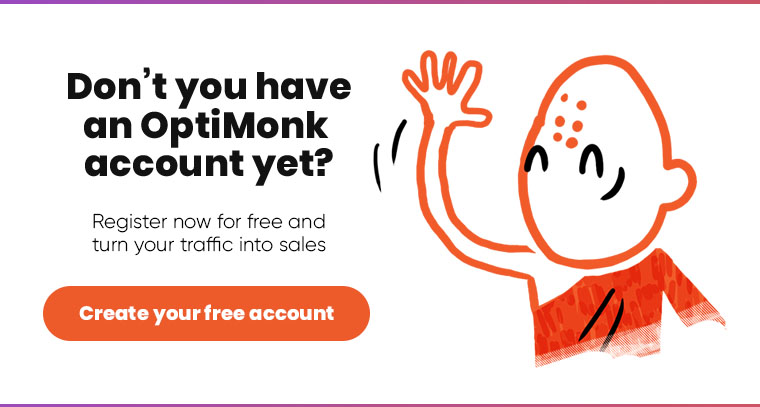 2. Cart Recovery Emails
The second workflow that does not require much of your attention but is damn profitable is cart recovery. These emails (best when sent in a series of three emails) are sent to the customer after a certain period when they abandon a shopping cart full of products. This workflow identifies all the products that were in the cart and sends an automated reminder to the customer. Believe it or not, these reminders are extremely effective! The infographic illustrates the relevant numbers.
In the example below you can see Case of Mine Cart recovery email. This online store sends a series of three email reminders with default copywriting found on Omnisend.
Find case studies of successful cart recovery emails on Shopify.
3. Order Follow-up Emails
When the customer finishes a purchase, send them an order follow-up email, a.k.a. a thank-you email. What else can I say after the purchase is done?
Say "thank you" and invite them to follow you on social media. In this way, you will have more channels through which to approach your customers.
Say "thank you" and offer a discount for the next purchase.
Say "thank you" and add an invoice. The Sufio invoicing app can help you do this easily.
Say "thank you" and upsell – add recommendations of similar products to your email.
Some of the ESPs allow you to schedule when the email should be sent. Usually, the email is sent immediately. However, The Brilliant Bakers online store, which sells cakes, uses this email in its own way. They sell birthday cakes, so when customers buy one, in a year from that date they send an order follow-up email – it's time to buy another cake!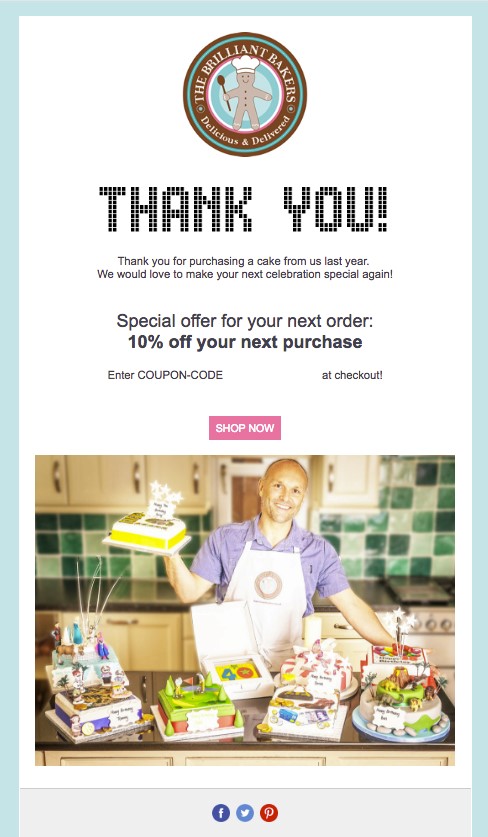 4. Re-activation Series
This series of emails is sent to your customers when they stop engaging with your emails for a substantial period. What should I say in an email like this? Usually online stores say something like "We miss you, please come back" and use all their trumps – discount coupons, free shipping, special gifts, etc. This is probably the last chance to win a customer back.
When to send these emails depends on the products you sell and the customer buying cycle. Merchants who sell apparel usually send reactivation emails 30, 40 and 60 days after the last interaction with a customer. The biggest benefit of re-activation emails is that they encourage any customers, that you have almost lost, to make a purchase. So every order counts.
For example, Wizarding Wares with their series of three reactivation emails (sent in 30, 40 and 45 days after the last purchase) succeed in winning back about 10% of inactive customers every month. See below what the third email of the series looks like.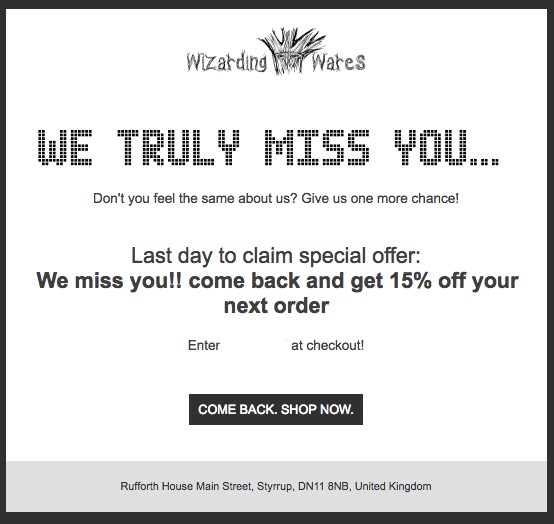 The bottom line
To summarize these four automated email workflows, your basic business data allows you to communicate the right message at the right time. A relevant email to your customer will help you re-engage with them and, once again, increase your profit.
Interested in new sales opportunities via automated emails? Don't look any further, Omnisend ecommerce email marketing service will send these emails on your behalf.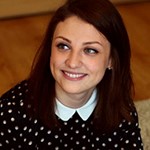 About the Author:
Karolina Jasvinaite is a content marketing manager and email enthusiast in Omnisend. Follow her on Twitter.